Argentina
Buenos Aires
Universidad Abierta Interamericana

Founded in 1995, the Abierta Interamericana University currently has three campuses; one in Buenos Aires, a second in San Nicolas and a third in Rosario. Today the university has over 20,000 students.
Instituto Universitario Escuela Argentina

The Escuela Argentina Institute trains professionals capable of managing and directing organisations in dynamic environments and of enhancing the development of technologies. It has three campuses.
Universidad de Buenos Aires

Founded in 1821, the UBA is the largest public university in Argentina. It is also the second largest university in Latin America in terms of students, more than 300,000!
Universidad John F. Kennedy

Founded in 1964, John F. Kennedy Private University has 40 academic departments. It welcomes more than 20,000 students, who discover the breadth of its programmes each year.
Universidad Maimonides

Founded in 1990, Universidad Maimonides is a private university located in the centre of Buenos Aires.
La Plata
Universidad Nacional de La Plata

Founded in 1897, the university has over 90,000 students. It has a very large student body but the business/management training offered by the university is still small and family oriented.
Mendoza
Universidad de Mendoza

The Universidad de Mendoza (UM) has 8,000 students. It has been recognised since 1960 for its academic excellence and the quality of its research. The university focuses on student education, combining theory and practice, and develops numerous initiatives to create links, such as literary or environmental workshops and sports activities.
Located in the heart of the city of Mendoza, the UM is considered the oldest and largest private university in the Cuyo region.
Brazil
Blumenau
Universidade do Blumenau (FURB)

Founded in 1964, the University of Blumenau is dedicated to serving the community. Since 1998, it has been developing its international connections and is now opening up to Europe. The University is known for the quality of its teaching and its prestigious research.
Curitiba
Universidade Positivo

Founded in 1988, Positivo University offers a wide range of programmes. Through its teaching, it prepares students to enter the professional world with an international perspective.
Itajaí
Universidade do Vale do Itajaí

The Universidade do Vale Do Itajaí (UNIVALI) is a Brazilian university located in Itajaí, on the north-central coast of the state of Santa Catarina. Founded in 1989, it currently has over 30,000 students on its six campuses: Itajaí, Balneário Camboriú, Biguaçu, Balneário Piçarras, São José and Tijucas.
Novo Hamburgo
Universidade Feevale

Founded in 1969, Feevale University now has over 18,000 students. The university is divided into two campuses. This award-winning university offers quality programmes that enable each student to achieve their full potential.
Rio De Janeiro
Universidade Federal do Rio de Janeiro
Born from the union of several existing faculties, the UFRJ was officially created on 7 September 1920 by the Brazilian President Epitácio Pessoa. It was named the University of Rio de Janeiro, but is also known as the University of Brazil. It is the largest Brazilian university.
Sao Paulo
Universidade Presbiteriana Mackenzie

Founded in 1970, Mackenzie is one of the oldest institutions of higher education in Brazil. The university's reputation shines through on an international scale.
Canada
Edmonton
Concordia University College of Alberta

Concordia University College of Alberta offers Bachelor's and Master's degree courses to students. The University was founded in 1921 by the Lutheran Church of Canada in Edmonton, the capital of Alberta.
Montreal
École des sciences de la gestion (ESG UQAM)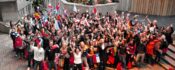 Recognised for the quality of its practical teaching, the excellence of its applied research and its international presence, the School of Management Sciences of the Université du Québec à Montréal asserts its leadership through a bold and forward-looking vision.
Université Concordia, John Molson School of Business
Concordia University is committed to innovation, creativity and excellence in teaching and research. The quality of its education has made it one of Canada's top business schools and it is accredited by the Association for Advance Collegiate Schools of Business (AACSB).
McGill University

McGill University is one of Canada's oldest universities. Founded in 1821, it has already educated over 33,000 students. Past graduates include 12 Nobel Prize winners, three Canadian prime ministers, 13 Supreme Court of Canada judges, four foreign leaders, nine Academy Award winners, three Pulitzer Prize winners and 28 Olympic medalists.
Nanaimo
Vancouver Island University

Vancouver Island University (VIU) was founded in 1936 and has been a dynamic and internationally recognised university ever since. Through its continued evolution and growth, VIU has contributed to the cultural and economic development of Vancouver Island. VIU is an institution that offers a diverse range of education and training programmes. The university offers a rich and intellectually stimulating environment for students. Its Business School is ACBSP accredited.
Ottawa
Algonquin College

Founded in 1967, Algonquin College is a university located in Ottawa, Canada. It is a university specialising in the arts and new technologies, and is internationally oriented in order to ensure that its students receive a modern education in line with the current market. Algonquin College offers online learning in most of its courses.
St. Catharines
Brock University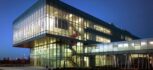 Located near Niagara Falls, 1 hour from Toronto, Brock University has no less than 17,000 students and nearly 600 professors. On a human scale although interconnected, the university campus gives the feeling of living in a small community. The philosophy of the university focuses its pedagogy on the development of rational and analytical reflection at the same time as the emotional and creative aspect.
The university offers many programs that promote the professional integration of its students as soon as they leave their studies. Thus, more than 85% of graduates say they have acquired skills within the university, which they use on a daily basis in their work. Its business school is AACSB and EFMD accredited.
Thunder Bay
Lakehead University

Founded in 1965, Lakehead University is a Canadian university located in the city of Thunder Bay, Ontario.
The university is highly regarded for its teaching of law and the humanities. Lakehead University is a dynamic, modern university with a strong focus on the student as the leader of tomorrow.
Vancouver
Trinity Western Union School of Business

Trinity Western University Langley is dedicated to transforming lives through higher education.
Vancouver Island
North Island College
North Island College is a community college, known for the quality and excellence of its programs and services. Its 900 courses and 70 programmes are supported by a committed faculty, staff and administration that work together to help students achieve their goals.
Chili
Antofagasta
Universidad Catolica del Norte
Founded in 1956, Universidad Catolica del Norte is a university located in the city of Antofagasta, Chile. The university aims to focus on the education of the student as a person. In addition to acquiring academic skills, students at Universidad Catolica del Norte are encouraged to cultivate their spiritual and personal values.
Santiago De Chile
Universidad Autonoma de Chile

Founded in 1989, the Universdad autonoma has over 20,000 students. Its goal is to become one of the ten best universities in the country. The university is continuing its international development.
Universidad Bernardo O'Higgins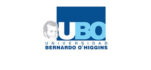 "The development of society through creativity and continuous learning". Founded in 1990, the Bernardo O'higgins University currently has more than 3800 students. Its teaching is based on respect for individuals, dignity and freedom. It offers a model of education that promotes equity, development and social advancement.
Universidad del Pacífico

The mission of the Universidad del Pacifico is to train professionals who are leaders in their field of expertise, capable of innovating and creating value in a constantly changing global environment.
Universidad Mayor

Founded in 1988, the Universidad Mayor aims to train cultured and enterprising professionals. It also provides students with an international perspective, while respecting their diversity.
Universidad San Sebastian

Founded in 1989, the Universidad San Sebastian has 4,600 students and over 26,000 alumni. Its mission is to train competent professionals to meet the needs and requirements of companies.
Pontifica Universidad Catolica de Chile

The Pontificia Universidad Catolica, founded in 1888, is one of the best universities in South America. It has 23,000 students. Thanks to the performance of its research centre, it strives for excellence.
Valparaiso
Universidad de Valparaíso

Valparaiso University is a public and autonomous institution. It provides a quality education to train students and professionals to work in a demanding environment. The values that inspire it are participation, solidarity, equity, freedom, pluralism, critical thinking and respect for diversity.
Colombia
Bogota
Universidad EAN (double degree)

The Universidad EAN was the first Colombian university to obtain ACBSP accreditation. For more than 43 years, it has been committed to developing students' competences, but also their interpersonal skills. In an entrepreneurial and globalised context, it enables each student to contribute to the economic and social development of the people. ISG and EAN have signed a double degree convention.
Universidad Santo Tomas

UST is a private university founded in 1988. Today it has over 28,000 students. The university's educational project focuses on the training and development of its students.
Costa Rica
Heredia
Universidad Nacional de Costa Rica
Founded in 1973 in Heredia, this public university in Costa Rica is one of the best in the country and in Latin America. It has a holistic approach and places the community at the heart of its educational project.
Rincón De Sabanilla
Universidad Latina de Costa Rica

Founded in 1979, Universidad Latina de Costa Rica is the largest private university in the country. With more than 16,000 students each year, it offers programmes in a wide range of disciplines, including economics, education, engineering, social sciences and health. Universidad Latina de Costa Rica has a campus in San Pedro, a second one in Heredia and about ten branches throughout the country.
Equator
Guayaquil
Universidad Casa Grande

Founded in 1992, Universidad Casa Grande (UCG) is a university located in Ecuador's largest city, Guayaquil. The university is recognised nationally and internationally for its innovative teaching methods. UCG favours personalised learning and small group sizes and strives to implement teaching methods based on personal reflection.
Universidad Ecotec

Ecotec's goal is to train responsible and supportive managers, capable of evolving in a global society and participating in social, economic, cultural and technological development.
Quito
Universidad Central

The Central University of Chile is a private university founded in 1982 in Santiago de Chile. It has four campuses in Santiago and has over 11,000 students.
Mexico
Mexico city
ITESM Monterrey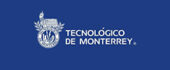 ITESM University was founded in 1943 by Eugenio Garza Sada and a group of entrepreneurs to train the future leaders of the professional world. From its earliest years, the university has been renowned for its academic excellence and entrepreneurial culture, making it one of the best universities in Latin America.
Puebla
Universidad de las Américas Puebla
UDLAP's mission is to contribute to the development of society by training creative, innovative and challenging professionals. It is also developing its research activities to become a leading university in Latin America. It is the only private university in Mexico to offer academic programmes in knowledge, law, fine arts and computer systems. Its business school is currently in the process of obtaining AACSB accreditation.
Peru
Lima
ESAN

Founded in 1963, ESAN University's mission is to educate future leaders with critical thinking skills and global vision. It is internationally accredited. Peru is a beautiful place, rich in exceptional biodiversity and characterised by a mix of cultures.
Universidad del Pacífico
Founded in 1962, the Universidad del Pacifico focuses its courses and programmes on the economics and administration of private and public companies and institutions. It is internationally accredited. Students are taught in a campus equipped with the latest technological innovations. The values that underpin the university are freedom, trust, respect, efficiency and solidarity.
Centrum Pontifica Universidad Católica del Peru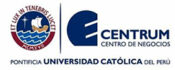 Centrum University, founded in 1917, is considered the best university in Peru and is among the top 25 universities on the Latin American continent. It benefits from international accreditations. This status comes from both the quality of its teaching, the dynamism of its research centre and its social responsibility. The university offers students an international and holistic view of business.
Trinidad and Tobago
Mt Hope
Arthur Lok Jack Graduate School of Business

The Arthur Lok Jack Graduate School of Business (Lok Jack GSB) was established in 1989 as a result of a collaboration between West Indies University and the private sector. The school's motto is "Innovatus Ars Ducendi", which means "Innovating in the art of leadership".
It is the first Business School in Trinidad and Tobago for over 20 years. It pursues the goal of becoming the first educational institution in the Caribbean to obtain 3 international accreditations and has already obtained AMBA accreditation.
United States
Austin
St. Edward's University

"Journey into a new world". St Edward's University strives for excellence by viewing education as an inner journey and self-fulfilment. Founded in 1841, Saint Edward's University in Austin, Texas, is a private, Catholic institution founded in 1873 with 4,000 students. Over 40 nationalities are represented on the Austin campus.
Bakersfield
California State University-Bakersfield

The undergraduate and graduate courses offered by California State University-Bakersfield (CSUB) promote the intellectual and personal development of its students.
The university trains more than 8,000 students a year and stands out for its diversity, service and international orientation. It also collaborates with many local partners to increase the region's overall level of education, improve the quality of life and support its economic development. Since its creation in 1965, two traditions have asserted themselves within the university: student-teacher interaction and the personalisation of learning. Its Business School is AACSB accredited.
Chicago
Loyola University Chicago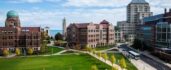 Founded in 1870, Loyola University Chicago (LUC) offers a high-quality education characterised by innovation and leadership.
As the only university in Chicago, it seeks to build an institutional culture of collaborative learning, research, and equity. The university educates more than 15,000 students each year across five campuses and has a network of 150,000 alumni. Its business school is AACSB accredited.
Clinton
Presbyterian College

Presbyterian College, founded in 1880, is located in South Carolina and welcomes 1,500 students. In order to provide the best possible education, students are taught in small classes.
Miami
Florida International University

Florida International University (FIU) offers more than 200 programmes, from undergraduate to doctoral level, and has nearly 200,000 alumni. For more than forty years, it has been one of the top institutions in Florida and even in the United States, with excellent results in national and international rankings.
Its Business School is AACSB accredited.
Barry University (double-diplôme)

Barry University was founded in 1940. It emphasises a balanced teaching, characterised by a wide variety of Majors and Minors
New York
Metropolitan College New-York (double degree)
Since its creation forty years ago, the Metropolitan College of New York has developed powerful programmes to develop students' critical thinking skills. The concept of experiential learning is at the heart of the educational process through continuous interaction between students and the professional world. The college has two campuses, the main campus in Manhattan and the other in the Bronx.
Pace University

For over 100 years, Pace University has been preparing students to become leaders in their respective domains. Pace University has three campuses, in New York City, Westchester, and White Plains, serving nearly 13,500 undergraduate, graduate, and doctorate students.
Saint John's University

St John's is one of the leading Catholic universities in the United States. It is known for its academic programme and vibrant student life. Founded in 1870, it provides students with an education that ensures their professional and personal success. With 20,000 students from 122 countries, the atmosphere is extremely cosmopolitan. The university has three campuses in New York and ISG students are welcomed at the Manhattan campus near Wall Street, Chelsea and TriBeCa.
Baruch College

Baruch College is ranked among the best colleges in the USA. The campus is close to Wall Street, the global headquarters of major companies and organisations of all kinds, giving students unparalleled opportunities for internships, careers, and networking. With more than 18,000 students, who speak more than 110 languages and come from more than 170 countries, the College has one of the most diverse student bodies in the United States.
Berkeley College

The New York and New Jersey campuses welcome more than 8,000 students from all over the world to receive a professional education in which applied teaching and internships are at the center.
Brooklyn College
For more than 80 years, Brooklyn College has attracted students from all over the world. It gives them the keys to understand the world around them. Today, the university hosts more than 16,000 students. The campus, attractive and dynamic, has more than 100 associative clubs
San Bernardino
California State University, San Bernardino

Located inland in Southern California, the Campus welcomes more than 20,000 students and is recognised as one of the best "colleges" in the United States. Its business school has seen its excellence recognised by obtaining the prestigious AACSB accreditation.
San Diego
The University of California, San Diego (UCSD)

UCSD is a student-centered, research and service oriented public institution dedicated to providing opportunities for all. Recognised as one of the top 15 research universities in the world, its collaborative culture drives new discoveries that benefit society.
Its business school is AACSB accredited.
National University

Founded in 1971, National University is the second largest private university in California and the 12th largest in the United States.
Based in La Joalla (San Diego), it offers a wide range of courses from bachelor's to master's degrees and professional development. The University is also at the forefront of technology for online courses.
San Francisco
San Francisco State University

Santa Barbara
Santa Barbara College

The University of Santa Barbara enjoys an exceptional geographical location near the Pacific Ocean. Founded in 1909, it provides a quality education in small group sessions. The campus has modern facilities and offers students many opportunities to participate in sports, cultural activities and student clubs.
Seaside
California State University Monteray Bay

Californian State Monterey bay offers nearly 6,000 students the opportunity to learn on an extraordinary campus overlooking monterey Peninsula Bay. The student population is of very diverse origin and receives dedicated attention from a very committed faculty.
Uruguay
Montevideo
Universidad de Montevideo

This private Catholic university places value and service to the community at the centre of its educational project. Founded in 1986, it has 5 faculties including a business school.