China
Beijing
Beijing International Studies University

Founded in 1964, the International Studies University is recognised in the world of higher education. It offers students a wide variety of programs and interdisciplinary training.
Beijing Youth Politics College

Beijing Youth Politics College (BJYPC) is a public institution of higher education established more than 50 years ago. BJYPC has two campuses in Wangjing and Jinzhan and has more than 4000 full-time students and more than 6000 foreign students. More than 20 specialisations are offered: languages, law, art, computer science, management, education… BJYPC also offers many continuing education programs as well as teaching Chinese to foreign students.
Central University of Finance and Economics School of International Exchange

Founded in 1949, the Central University of Finance and Economics is made up of 24 schools, focusing exclusively on economics/business and management. Students benefit from high quality teaching, especially since the disciplines taught are considered strategic by China.
Chonqing
Chongqing University

The Chonqing institution  is a key university in China, as it is directly linked to the Ministry of Education of China. It is located in the Shapingba District, a cultural and educational center of the city. Founded in 1929, the university now has 28 colleges with over 48,000 students.
Shanghai
Shanghai University of Finance and Economics

The Shanghai University of Finance and Economics (SUFE), founded in 1917, is an internationally renowned research university. Considered the oldest financial university in China, SUFE has developed its own distinctive academic approach over the years. It aims to foster a spirit of openness to the world as well as exceptional teaching quality.
Fudan University

Fudan University, founded in 1905, has more than 26,000 students today, of whom more than 3,500 are foreigners. The university's sole objective is to train and cultivate more and more talents.
Tongji University

Founded in 1907, Tongji University is one of the oldest and most prestigious universities in China. In recent years, the university has expanded rapidly in conjunction with the development of China. It has 5 campuses.
Jiao Tong University

Founded in 1896, this university is one of the most prestigious in China. It now has almost 40,000 students, half of whom are on a Master's programme.
Li Xin University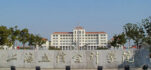 Founded in 1928, the university offers a comprehensive education including management and economics. Under the direct instruction of Shanghai, the university shares its educational resources with local students, but also with those from other countries. Today the university has over 10,000 students.
Shenzhen
Peking University HSBC Business School

Founded in 1898, HSBC Business School was originally the Imperial University of Peking. It has long been one of China's leading institutions of higher education and is now at the cutting edge of modernity.
Hong Kong
Hong Kong
Hong Kong Baptist University

Established in 1956, Hong Kong Baptist University remains at the forefront of science and is highly regarded for its commitment to the arts and literature.
India
Greater Noida
Bimtech
Founded in 1988, Birla Institute of Management Technology (BIMTECH) is a business school located in Greater Noida. Knowledge of the professional environment is essential for BIMTECH and is the cornerstone of its pedagogy.
Punjab
Chitkara University

Founded in 2010, Chitkara University is a university located in northern India. The university is considered the best university in Punjab. It is highly recognised in business management, medical technology and IT. Chitkara University is committed to promoting research, innovation and entrepreneurship through its many partnerships with companies.
Indonesia
Jakarta
IPMI International Business School
Established in 1984 in Jakarta, IPMI International Business School is recognised as a leading business school in preparing senior executives for international markets. IPMI is the first school in Indonesia to offer an all-English education and to offer MBAs.
IPMI International Business School is a member of the AACSB and the Association of MBAs (AMBA).
Japan
Fukuoka
Seinan Gakuin University

Founded in 1916, Seinan Gakuin University (SGU) is the major university in southern Japan. It is well known for its international outlook and its tradition of welcoming French-speaking students. SGU has twelve departments in seven faculties of undergraduate and graduate studies, as well as eight faculties of postgraduate studies. Many disciplines are taught here, such as law, economics, business and human sciences.
Tokyo
Temple University

This American university has been established in Tokyo since 1982 and is the oldest foreign university in Japan. It has nearly a thousand students, half of whom are American.
Hosei University
Hosei University has over 40,000 students. Founded in 1880, it trains professionals capable of reflecting on themselves and the world. The university has three campuses: Ichigaya Campus, Tama Campus, Koganei Campus. The university provides its students with a truly international perspective.
Macao
Macao
Saint Joseph University

Founded in 1996 on the initiative of the Catholic University of Portugal and the Diocese of Macau, Saint Joseph University is a private university on a intimate scale (around 2,500 students) offering programmes ranging from bachelor's to doctorate degrees in disciplines as diverse as business management, new technologies, communication, etc.
Malaysia
Subang Jaya
Taylor's University

Founded in 1969, Taylor University is one of Malaysia's oldest and most renowned private universities. Its state-of-the-art campus, located in Subang Jaya, a suburb of Kuala Lumpur, has won a prestigious Malaysian Architecture Award. The university has been rated as "Tier 5", excellent, by the Malaysian Ministry of Higher Education.
Singapour
Singapour
Nanyang Polytechnic School of Business Management

Established in 1992, Nanyang Polytechnic University has more than 15,000 students and provides a quality education focused on expertise, creativity and innovation to prepare students for their future lives. The campus meets the current requirements of students: high-tech equipment, sports facilities, etc.
South Korea
Busan
Pukyong National University
Pukyong National University is a large university with nearly 26,000 students and is known for its rigorous selection process. The university has the best graduate employment rate in the country and the best PhD results for its professors. It runs 20 research and educational organisations for national projects and has become one of the leading universities in developing specialisation and internationalisation programmes.
Seoul
Sookmyung Women's University

Sookmyung Women's University is the first private university for women in Seoul. Founded in 1906, only male students from international partner institutions are admitted to the campus. The university is increasingly specialising in the hospitality sector. It has over 15,000 female students.
Konkuk University
Konkuk University is a private university located in Seoul and Chungju. The Seoul campus is located in the southeastern part of the city near the Han River. This campus has 16 undergraduate colleges and 13 graduate schools, while the GLOCAL campus in Chungju consists of 6 undergraduate colleges and 4 graduate schools. Since 2014 about 25,600 undergraduate and graduate students have been enrolled at the university, which has more than 3,000 faculty members.
University of Seoul

Founded in 1946, Seoul University has over 29,000 students. It is considered one of the most prestigious universities in South Korea.
Taiwan
Taichung
Feng Chia University

Founded in 1961, Feng Chia University was established in the 1950s by a group of intellectuals. For more than 50 years, the university has continued to develop and increase its reputation, becoming one of the best universities in Taiwan. Today, it offers a comprehensive education to over 20,000 students.
Thailand
Bangkok
Mahidol University

Ranked number 1 in Thailand, this public university founded in 1943 has nearly 30,000 students.
The Philippines
Quezon
Ateneo de Manila University
Founded in 1859, Ateneo de Manila University is a university located in the city of Quezon in  the Philippines. It is considered one of the best universities on the Asian continent. It is highly regarded for its teaching of law, humanities, social sciences and theology. Various senators as well as the former President of the Philippines, Noynoy Aquino are graduates from this prestigious university.
Vietnam
Hanoï
FPT School of Business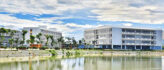 Considered the leading business education institution in Vietnam, the Hanoi-based FPT School of Business has trained thousands of leaders and managers and has been voted the best business school in Vietnam by Eduniversal.
Ho Chi Minh
Hoa Sen

Hoa Sen University is located in downtown Ho Chi Minh City, the commercial heart of Vietnam. The university was founded in 1991, during a period of economic and social transition, when Vietnam began its process of integration into the global economy. The university offers facilities in line with international standards, designed to provide an ideal teaching environment for students. Hoa Sen University's Business School was awarded AACSB accreditation in 2016.